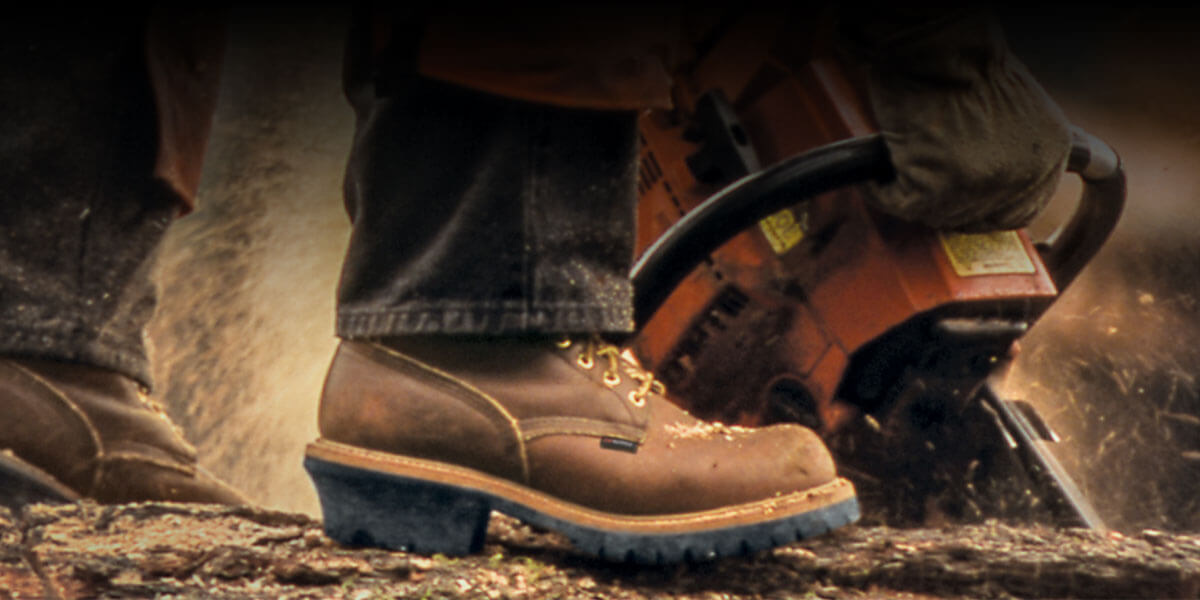 What's the Purpose of Logger Boots?
Logger boots were created for very distinct purposes than other boots, and no they don't just have that heel for looks. The characteristics of the Logger Boots can be described as a boot with a larger heel (logger heel), an aggressive tread, larger shank, goodyear welt, and taller with laces.
The raised heel is beneficial for climbing, allowing someone to easily grip into the rungs of a ladder or gaffs for climbing a telephone pole. The raised heel on the logger boot also helps by elevating the foot and keeping any moisture out.
The larger shank in a logger boot also helps with climbing and stability. The larger shank does not allow the boot to fold if there is a lot of pressure in a particular spot on the boot.
The goodyear welt was specially designed to take abuse. Which only makes sense to put it on a boot made to take a beating. The welt construction is the stitching of the midsole, the boot upper, and outsole together. This allows it to have the support and durability needed for everyday work in harsher environments and uneven terrain. 
Most logger boots are lace-up, that's so the boot provides the proper stability and ankle support for the uneven terrain or climbing.
Higher Density Outsole - Doesn't wear down fast, which allows for longevity of the boot and resistance to sharp/hard surfaces.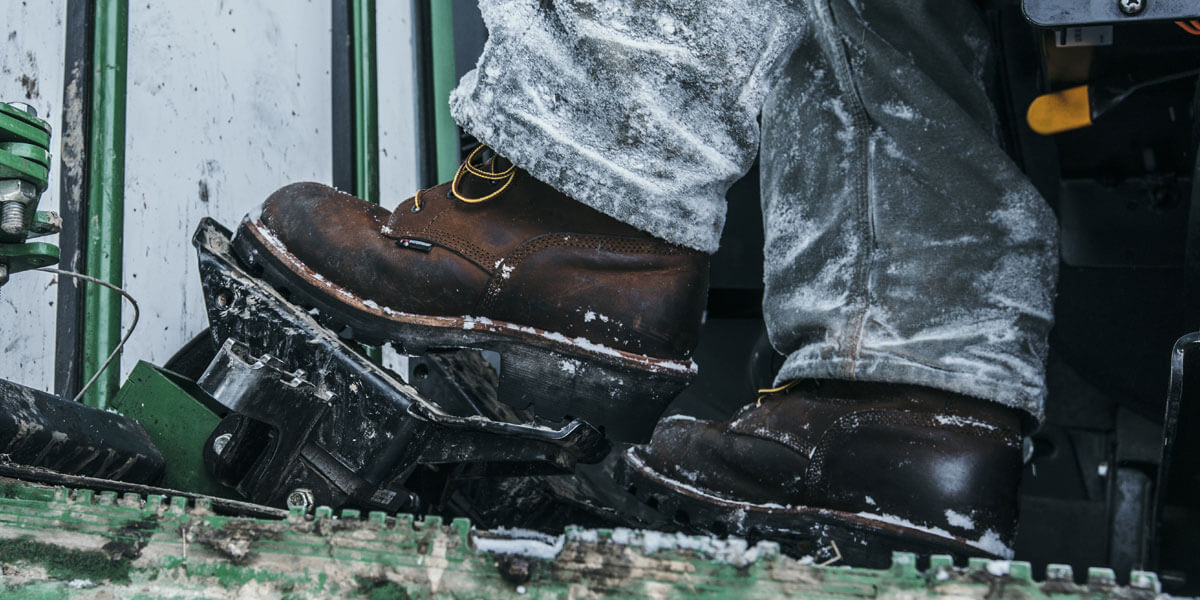 What Are Some Uses for Logger Boots?
Loggers - Hence the name "Logger" boots, these are the perfect boots for the guys out in all different terrain and that need a highly durable boot.
Lineman - Lineman typically need a higher heel in order to climb up the utility poles in their gaffs. Logger boots provide the higher heel and also the ability to lace up in order to create stability and ankle support needed to do the climbing safely.
Farmers/Ranchers - While many jobs call for a highly durable boot, farmers/ranchers are one of the first careers that come to mind. Long hours and lots of different jobs, these boots are made to handle just about anything. Whether that be putting up new fencing, taking care of the stalls, or just everyday tasks.
Heavy Equipment Operators - Heavy equipment operators are typically in and out of their equipment on the job site. The heels on the logger boots are perfect for climbing in and out and also with dealing in the different arrays of terrain that a heavy equipment operator may have to deal with.
Where Should Logger Boots NOT Be Used?
Logger boots shine in outdoor environments that have uneven terrains, are weather prone, or that can be very demanding on boots. Which means they would not be good in the opposite, indoor environments that don't require a lot of demanding tasks for boots such as indoor manufacturing, warehousing, kitchens, or an office environment.
The hard outsoles of the logger boots do very well in wear testing, as they don't wear out fast. Although, they can be uncomfortable for long periods of time on harder surfaces such as concrete, since they don't have much "give" to them. Instead, a softer sole would be much better and more comfortable for those long periods on hard concrete floors.
Should Loggers be Used In Construction?
This question depends on a few scenarios, such as what you actually do on the construction site, or which type of construction site it actually is.

If you are the manager of the site, and don't actually do much of the laboring, then I believe that there would be better options for someone who walks around the site more often than doing the labor. Although, if you are the laborer and are down in the trenches everyday, then yes, I would suggest a highly durable boot like a logger boot.
Now, if your construction site includes standing on concrete for most of the day, then I would again suggest something with a softer sole or less density.
What are some Logger Boot Brands?
Red Wing Boots - Red Wing Shoes are known for their high quality work boots. 
Georgia Boots - Georgia Boot provides a large array of logger boots including Insulated, Gore-Tex lined, or 6-inch with a smaller heel. 
Irish Setter Boots - A subsidiary of Red Wing Shoes, the Irish Setter brand also provides their own Logger Boots. Coming in at a lower price point while still providing high quality work boots.
Thorogood Boots - Classically known for their USA made Moc Toe Wedge Boots, they also make a durable, high-quality, Made in the USA Logger Boot.
Timberland Pro Boots - Best known for their classic brown boot, Timberland also makes a wide variety of other work boots. Timberland has been implementing industry leading technology into their boots, such as their Independent Suspension Network and Anti-Fatigue Footbeds.
Carolina Boots - Also known for their well made boots, they have a large array of Logger boots. They even have pull-on loggers.
Chippewa Boots - A very well known brand for their Logger Boots, it wouldn't be much of a "Logger Boot Brands" list without them.